Acupuncture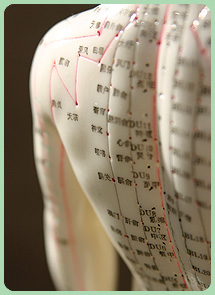 Acupuncture is part of the Traditional Chinese Medicine (TCM), ancient and modern system of health care that originated in China. It involves the insertion of extremely fine needles into the skin and body tissues at specific points, which is proven to be effective in the treatment of health problems. These points have been mapped over thousands of years and recently their locations have been confirmed by electromagnetic research
Traditional Chinese Medical theories consider disease to be the result of an imbalance in the flow of energy (Qi) and blood (Xue) through the body's meridians or pathways and their associated physiological systems.
These meridians cover the body in regular patterns in much the same way as the nervous system and blood vessels do. Acupuncture needles affect specific points, influencing energy (Qi) to flow to areas where it is deficient or away from areas where it is in excess. In this way Acupuncture regulates and restores the balance of the body, helping it to return to good health.
Acupuncture is a system which can influence three areas of health care:
• Promotion of health and well-being
• Prevention of illness
• Treatment of various health conditions
While Acupuncture is often associated with pain control, in the hands of a well-trained practitioner it has much broader applications. Acupuncture can be effective as the only treatment used, or as the support or adjunct to other medial treatment forms in many medical and surgical disorders.
The World Health Organization recognizes the use of Acupuncture in the treatment of a wide range of medical problems, including:
• Digestive disorders: gastritis and hyperacidity, spastic colon, constipation, diarrhea.
• Respiratory disorders: sinusitis, sore throat, bronchitis, asthma, recurrent chest infections.
• Neurological and muscular disorders: headaches, whiplash, frozen shoulder, tennis elbow, various forms of tendonitis, low back pain, sciatica and osteoarthritis.
Acupuncture is particularly useful in resolving physical problems related to tension and stress and emotional conditions.