Chinese Herbal Medicine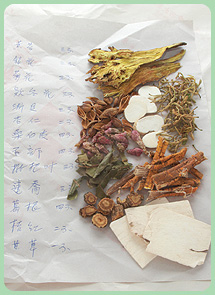 The majority of substances used in Chinese Herbal Medicine are of plant origin; flowers, leaves, roots etc., but there are also minerals, shells and to a lesser extent animal products. Unlike Western herbs they are almost never prescribed individually but are combined in formulas that are designed to not only relieve the patient's symptoms but to address the underlying problem as well.
A Chinese herbal formula is generally structured to contain herbs that treat the underlying problem; herbs that enhance the main therapeutic actions, herbs that treat the patient's symptoms, herbs that guide the formula to specific organ areas and herbs that harmonize the prescription.
The traditional way was for the practitioner to assemble the prescription adding specific doses of each herb to a "package" until the prescription was complete. Each package (enough for a daily dose) was taken home by the patient and decocted (simmered) in a small amount of water, usually twice, to extract the active ingredients. It was then strained and the resulting "tea" was drunk. Most Canadians find this process too time consuming, and they are often put off by the unfamiliar and strong smell of the cooking herbs. To address this problem there are now companies that decoct the formulas and sell them in powdered or tablet form.
Chinese herbs can also be taken in the form of "Patent medicines". They are sold prepackaged (usually in pill or tincture form) in the same way that over the counter medicines are sold in Canada.
A well trained practitioner will be able to recognize the quality of the herbs they are using as well as know their source. They will know how they have been grown, harvested, and handled and whether they have been exposed to chemicals or pesticides. Additionally, the major companies that supply herbs in powdered form must maintain high standards both in the quality of the herbs they use and in their manufacturing processes in order to protect their reputations. Please feel free to ask us who supplies the products we use and why we have trust in them.
Chinese herbal prescriptions are usually tailored to individuals where all things are taken into account; age, weight, constitution, general health and severity of the problem. In order to "fit" the patient, specific herbs can be added to or deleted from a formula. Obviously this does not apply to tablet forms or patent medicines but the same companies that provide powdered formulas also provide the individual herbs that make up the formulas in the same powdered form. Using these, we can customize your formula in exactly the same way as if we are using raw herbs.
With Chinese Herbal Medicine we can treat pretty much the same list of problems that could be treated with other drugs. From acute conditions like cold and flu, to chronic problems like arthritis, fatigue, insomnia, constipation, diarrhea, nausea, and menopausal symptoms, these conditions and many others can be treated effectively with Chinese Herbal Medicine.
For effective treatment, Chinese Herbal Medicine follows the same medical theories as Acupuncture, and is often used as an adjunct to Acupuncture treatment. A diagnosis is made after an initial consultation that involves among other things the taking of a medical history into account, an inspection of the tongue and the taking of the pulse. Symptoms are considered and categorized until a specific syndrome (or group of syndromes) is determined. At this point an herbal formula for the syndrome is considered. Even though it will be targeting the basic syndrome it can be adapted and adjusted for the individual patient and their needs.
Additionally, to enhance the value of a treatment with Chinese Herbal Medicines, the following guidelines are important:
• Do not eat an unusually large meal immediately before or after your herbal medication intake
• Do continue to take any prescription medicines as directed by your regular doctor, however take those 1-2 hours apart from your herbal medication.